9/11 Day of Service
---
September 11th is a National Day of Service and Remembrance. Americans are called to volunteer in their local communities as a tribute to the first responders and individuals lost and injured during the attacks. Learn more about the 9/11 Day of Service, and click here for a list of resources and ideas for community projects.
Sign up for our Days of Service newsletter to receive updates when plans get announced.
---
2023 EVENTS
Youth Service America is a national nonprofit whose mission is to make working together for the common good the common expectation and common experience of every young person. It believes that youth, communities, and democracy thrive when we all work together for the common good. In honor of the 9/11 Day of Service, it has challenged youth across the nation to interview local community members to collect and record oral histories about September 11, 2001 based on personal recollections.
"We are increasingly challenged to explain the significance of the events of September 11, 2001, to America's young people -- most of whom have no first-hand memory of the occasion."
This oral history exercise is a great way for youth to connect with the experiences of older Americans on that historic day. We have built a small list of reflection questions to pair with the assignment. Participants are asked to speak with and record on video, audio, or a typed document at least one person sharing their memories and experience of the day and the impact it had on their life.
Oral History Reflection Quetions Upload Your Oral History Files
---
2022 EVENTS
Sound the Alarm Campaign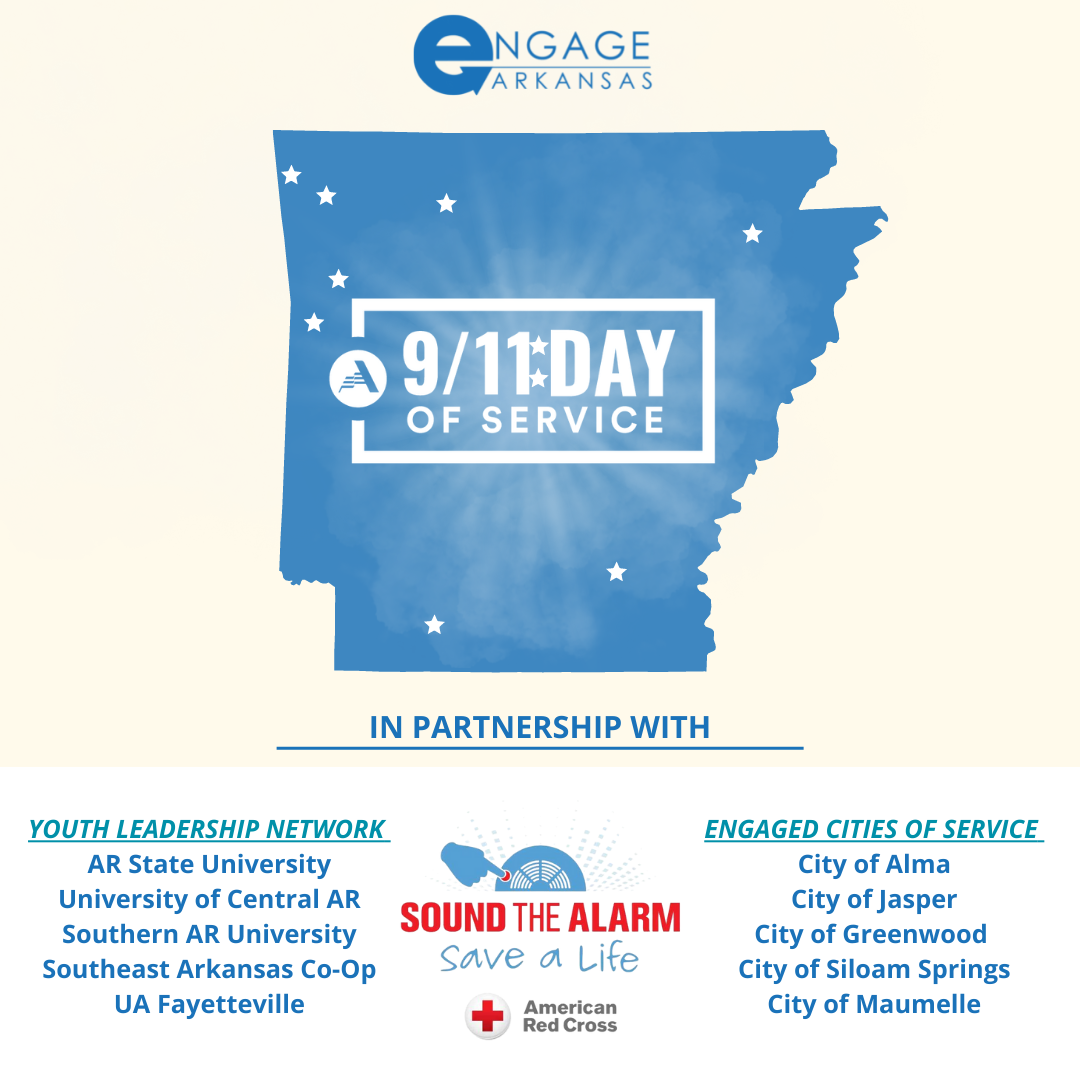 In 2022 we brought together our Engaged Cities of Service and the Collegiate Service Leadership Council to implement the American Red Cross 'Sound the Alarm' campaign. Volunteers and AmeriCorps members in ten Arkansas communities canvased neighborhoods using heat maps to identify homes that needed FREE updated smoke alarms. They notified neighbors of the initiative with a focus on seniors, veterans, first-responder, and at-risk community members.
Following the canvasing events, volunteers, AmeriCorps members, and local fire department staff worked together to install the smoke alarms and provide educational materials. The smoke alarms were logged into the American Red Cross database and will be tracked for the next ten years. Participating communities included Alma, Conway, Fayetteville, Greenwood, Siloam Springs, Jasper, Jonesboro, Maumelle, Magnolia, and Monticello.
If you're interested in receiving a free updated smoke alarm anywhere in the state of Arkansas, fill in the form below and someone from the American Red Cross will follow up to arrange an appointment. This offer is not limited to the ten communities that participated in the 9/11 Day of Service. The American Red Cross is committed to making all Arkansas homes fire-resistant and safe.
Schedule a Free Red Cross Home Fire Safety Visit
---